I AM now a Certified Intuitive Angelic Miracle Healer!
"And what," you may ask, "is a Certified Intuitive Angelic Miracle Healer?"
Intuitive Angelic Miracle (I AM) Healing and Readings TM (a.k.a. I AM Healings and Readings) is a divinely inspired modality for intuitive readings and angelically guided heart, mind, soul and energy healings created by Rev. Sage Taylor Kingsley-Goddard, Archangel Michael Channel.  I AM Healings often facilitate miracles of healing, insight and transformation, and I am honored to be certified in this life-changing spiritual healing method which brings in Divine Guidance from the Angelic Realm, imbues a sense of wellbeing, enhances spiritual connection with the angels and one's Highest Self, restores inner peace, joy, love and the ability to prosperously fulfill your destiny and Earth mission with ease and divine grace.
Here's what some people who have experienced IAM Healings from me have had to say: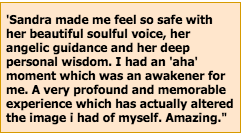 What are the benefits of I AM Healing?
Greater connection to your angels and guides

Greater sense of peace and security

More rapid physical healing and spiritual development

Improvement in relationships

Greater openness to opportunities
What can you expect in an I AM Healing Session?
Before the session, I will send you a brief intake form with some basic questions about what you want to work on. This helps us to maximize our time together and also allows me to do some spiritual work prior to our session.
We will meet either by phone or by Skype, as this allows the session to be recorded for your reference. I always start each session with prayer, and will call in my angels and guides, as well as yours, to assist with the session. While every session is different, after the prayer I will often do some relaxation exercises involving the breath and then a form of guided meditation to do the healing work. Sessions are usually 60-75 minutes, although some personal time to re-orient after such deep work is done is highly recommended. Each session includes a recording and also an email check in 48 hours after the session.
If you are interested in scheduling a session, I am offering a special introductory rate for single sessions right now, as well as discounted multi-session packages. I am also offering installment options and Paypal credit (to those who qualify). Please note that you will be taken to my online scheduler immediately after paying. For those who are purchasing the 3-session package, you will need to set up each session separately by visiting the scheduler for each session. You will receive full instructions by email, as well. 
SPECIAL ANGELIC HEALING PACKAGE
$597 VALUE
ONLY $222
Package includes your 75 minute session, recording and e-coaching follow-up 48 hours after the initial session.
3-SESSION ANGELIC HEALING PACKAGE
ONLY $444
Three sessions for the price of two! 
For an even more affordable option,
EMAIL READINGS!
Email readings allow you to ask your questions by email and may include any or all of the following:
REGULAR PRICE: $197
NOW JUST $97
There is a limited number of slots available at this price, so book yours today!
Be sure to check your email after payment for full instructions on how to prepare for your reading.
Disclaimer: All testimonials presented herein are real and verifiable. Most people experience profound, even life-changing positive results with I AM Healing and Readings, however there is no guarantee of results because this will depend upon the readiness of the individual and their commitment to healing. I AM Readings & Healings are not to be used as a substitute for other health, psychological or medical care and I AM healers and readers do not represent themselves as licensed physicians. The founder and certifier of I AM Healers and Readers, Rev. Sage Taylor Kingsley-Goddard takes no responsibility for any harm that may result from any session and/or service performed by any certified I AM Healer or Reader. I AM Healers and Readers are held to the highest standards of professionalism, integrity and quality. Always use your own best judgment when signing up for a healing, program, reading or session of any kind. Listen to your own voice of wisdom within.