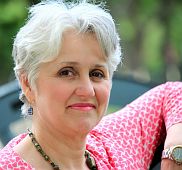 A long, long time ago in a galaxy far away…
Sandra has been singing for about as long as she can remember. And by the time she was 8 or 9 years old, she was already singing and performing in school plays and being recognized by her instructors for her talent. She went on to church choirs, school chorus, acting classes, community theater and from there to semi-professional theater where she grew up in Miami, Florida.
But then…
Like so many creative people, her artistic aspirations got sidetracked when she got married and had a family. She got a day job and pursued her passions at night.
In one memorable job performance review, in fact, she was asked where she saw herself in five years, and before she could answer, her boss answered, "As Helen Hayes!" (Famous Broadway and film actress)
It was clear where her priorities were, even while trying to juggle both a corporate day job and aspirations in the theater.
In the Big Apple…
After moving to New York City and graduating from the National Shakespeare Conservatory in 1996, Sandra realized that her music was calling to her. She began taking singing lessons with a voice teacher who encouraged her to improvise and sing about her day when she was working with him. Her songwriting floodgates opened, and she quickly began writing songs. Since she didn't play an instrument, her voice teacher helped her create arrangements of the songs. She began working with a guitarist and performing around New York City, as well as singing back-up with other musicians.
The next act…
At a certain point, she realized that she wanted to be more than an entertainer. She wanted her music to make a difference. And she wanted to help people transform their state of being long after a performance. So she began investigating the field of Sound Healing, where she found a connection between making a difference and making music that was fascinating and fulfilling to her. She studied with Jonathan Goldman, Mollie Scott and Don Conreaux and began leading sound healing circles and kirtans in her home. In 2004, she was ordained as an Interfaith Minister and in 2007, she received certification as a Spiritual Life Coach. Combining her skill sets as a singer/songwriter, coach, sound healing practitioner and minister, she has been coaching, singing and helping people break through blocks to step into the life they want for 20 years now.
What's Happening Now
In 2012, she began writing custom songs for friends and colleagues. In 2013, she created The Soul Song Project, where she interviewed and wrote songs for nine residents at a local nursing home. She is now creating custom songs for coaches, speakers, corporations and not-for-profits, while continuing her sound healing and coaching practice. She lives in New York City with her husband and their two cats.
In case you're wondering what other people have to say about Sandra, you can find Testimonials about her work on the What People Are Saying page.